Below are listed some common questions asked of Dr. Amy Sherman or the Center on Faith in Communities. The answer to YOUR question might just be here. Following each answer is a listing of additional resources you may find helpful. You may wish to refer back to this section of the website in the future, as we will be adding new questions and answers periodically.

(1) What is President Bush's "faith-based initiative" all about?
A: The President's faith-based initiative aims to create equal access for faith-based organizations (FBOs) and grassroots community based organizations (CBOs) in competitions for public funding of social service programs.
The rationale for the faith-based initiative is straightforward. The President argues that it is simply wrong on constitutional grounds to arbitrarily exclude some groups that are providing public services, just because they are religious, from competing for public funds. Some observers believe that FBOs may also bring some unique strengths to the table, and that government, in its efforts to serve the needy, ought not disregard those contributions. Rather, they argue, government should look for ways to connect to these groups. FBOS are already providing an enormous among of social services (by some estimates, FBOs provide some $20 billion in social services annually) and they are often the first groups that people in need in the community turn to. But the main point of the faith-based initiative is not that all faith-based programs are more effective than all secular programs. Rather, it is that those faith-based programs that are effective (whether they are many or few) should not be excluded from government funding just because they are faith-based.
The main activities of the faith-based initiative have included:
" Establishing an Office of Faith-Based and Community Initiatives in the White House;
" Establishing Centers for Faith-Based and Community Initiatives in each of the major federal cabinet agencies with authority over various aspects of social welfare policy;
" The Compassion Capital Fund, administered through the Department of Health and Human Services, which has provided over $30 million dollars in funding for capacity building among FBOs and CBOs;
" An Executive Order that directs cabinet agencies to review their regulatory policies in order to eliminate discriminatory barriers to FBOs and CBOs;
" A series of training conferences around the country, to educate FBOs and CBOs about federal grant and contracting opportunities and about ways to partner with local government social service agencies.

Additional Helpful Resources:
White House Office of Faith-Based and Community Initiatives
http://www.whitehouse.gov/government/fbci/
The Center for Public Justice
www.cpjustice.org
Roundtable on Religion and Social Welfare
www.religionandsocialwelfare.org
Revolution of Compassion by Dave Donaldson and Stanley Carlson-Thies. More information available at http://www.wecareamerica.org/index.cfm?FuseAction=Shopping.ProductDetails&productid=47
Reinvigorating Faith in Communities by Amy L. Sherman. More information available at
http://www.hudsonfaithincommunities.org/resources.html

(2) What is "Charitable Choice"?
A: The 1996 federal welfare reform law included an encouragement to government to reach out to community-based organizations, including congregations and faith-based nonprofits, to devise ways of working together to serve the poor and needy. The Charitable Choice provisions (section 104 of the Personal Responsibility and Work Opportunity Reconciliation Act of 1996) establish new rules for such collaboration between government and faith communities. Charitable Choice is not a new pot of government money set aside for faith-based organizations. Rather, it is a set of rules that state governments must follow if they choose to use certain federal funds to contract with groups in the private sector that provide various social services (such as job training or mentoring). These rules require that state governments contracting with private sector organizations cannot discriminate against a faith-based social services provider because that provider is religious. In this way, Charitable Choice creates a level playing field between secular, and faith-based, organizations that want to compete for government contracts to underwrite their community service efforts.
It is important to note that the Charitable Choice guidelines currently regulate just four "streams" of federal funding: the Temporary Assistance to Needy Families program; the Department of Labor's Welfare-to-Work program; SAMHSA (the Substance Abuse and Mental Health Services Administration); and the Community Services Block Grant (funds that go to Community Action Agencies). Contracts between faith communities and government entities controlling these funds are covered by the Charitable Choice guidelines, but contracts involving other sources of federal dollars (e.g., Department of Housing and Urban Development funds, such as Community Development Block Grant funds) are not. Thus, should your ministry decide to pursue potential government funding opportunities, you will want understand clearly the original source of the funds and ascertain whether the Charitable Choice rules will apply to your potential contract/grant or not.
Charitable Choice grants new rights to religious groups that contract with government. Charitable Choice is aimed at facilitating fruitful collaboration between government and the faith community that protects the religious integrity and character of faith-based organizations accepting government dollars. Under Charitable Choice, religious groups contracting with government:
* retain authority over their mission, governing board, and prophetic voice;
*have the right to maintain a religious atmosphere in their facilities; and
*retain the right to use religious criteria in employment decisions (e.g., an organization can choose to hire only those who agree with its Statement of Faith). Organizations may not discriminate in their hiring on other grounds (i.e., race, age, gender, disability).
Just as Charitable Choice is aimed at safeguarding the rights of faith communities, it also seeks to protect the civil liberties of individuals who receive social services from faith-based ministries and congregations collaborating with government. Religious groups must offer their services to all eligible participants regardless of their religious affiliation (or lack of affiliation). In addition, if a client objects to receiving social services from a faith-based provider, under Charitable Choice, the government must ensure that he/she obtains assistance from another organization. Moreover, faith-based organizations must not use governmental funds for purposes of "sectarian worship, instruction, or proselytization" and they must not require service recipients to participate in religious practices. Inherently religious activities like prayer, evangelism, Bible studies, or discipleship training have to be clearly voluntary for people who are there to participate in your government-funded assistance program. Such activities can and should be offered, but not forced on anyone. It must be clear to program participants that they may decline to take part in such things without any penalty. (Of course, faith communities remain free to use private funds for inherently religious activities such as evangelism and discipleship and, in non-government-funded initiatives, can make participation in such activities mandatory.)
Additional Helpful Resources:



The Charitable Choice Handbook for Ministry Leaders by Amy L. Sherman (available from Hudson Faith in Communities for $5 plus s/h. Call 434-293-5656.

The Roundtable on Religion and Social Policy (www.religionandsocialwelfare.org) has published reports containing legal analysis on the faith-based initiative. Go to the home page and click the button titled "Legal" to access these reports.

(3) What are the pros and cons of receiving government money?
A: Competing for government funding is not the right decision for all faith-based organizations and congregations. Your ministry's leadership should prayerfully consider: (a) the nature of your organization (e.g., do you operate programs that have voluntary religious activities that can be held separately - for example, at a different time and location - from your government-funded activities?); (b) your mission and vision; and (c) the strength of your internal organizational infrastructure (e.g., accounting system, record-keeping ability), in coming to a decision about whether to pursue public funding opportunities.
Collaborating with government can bring the tangible benefit of added resources to underwrite current programs, enhance or expand such programs, or help to launch new ministry initiatives. Working with government may lead to your ministry leaders having opportunities to get connected to new networks (new partners in the business community, other nonprofits, or potential donors from the philanthropic sector). Fulfilling the various reporting requirements of a government contract can also lead to the strengthening of a ministry's internal administrative structure (such as improving record-keeping or formalizing the accounting system). Moreover, government staff may have technical skills to share, or be able to connect the ministry with sources of in-kind donations (used computers or office furniture, for example) of which your ministry may otherwise have been unaware. In some cases, the fact that a ministry successfully competes for government funding leads private foundations to view the ministry with newfound respect (the idea being that competition for government funds is stiff, and so your organization must run a pretty good operation if you were successful in winning the competition). And this newfound respect may translate into funding opportunities with that private foundation.
Collaborating with government, though, usually involves costs as well as benefits. Here are several common ones:
(1) Accepting government funds inevitably involves some red tape (depending on the nature of the contract, this can be more or less burdensome). Ministries will be required to submit goals, timelines, and budgets and to account for each dollar of government money received. Government will require progress reports and assessments that will demand that your ministry do an excellent job in documenting its work among those you serve.
(2) Some contracts operate on a reimbursement basis -- you spend ministry funds up-front on program activities, then submit receipts for reimbursement to the government. Sometimes government agencies are have a slow turnaround time for making such reimbursements, and this could subject your organization to "cash-flow crunches."
(3) Government is increasingly utilizing performance-based contracting. This means that your organization may not receive portions of your contract/grant funds unless you adequately achieve previously-agreed-to benchmarks of progress (such as graduating a certain number of participants in your program). Under such an arrangement, it behooves you to: (a) spend considerable time dialoguing with the government agency about the performance measures you believe your organization can achieve; (b) set realistic goals; and (c) have a plan for how you are going to fund the program if you don't achieve all your objectives (and therefore do not receive 100 percent of the contract funds from the government agency).
(4) Some ministries have felt subtle pressures to expand their work -- perhaps beyond the level of capacity with which ministry leaders are comfortable.
(5) There is a chance that some of your current donors will feel you need them less "now that you get government money."
All these potential costs should be carefully weighed in any decision to pursue government funds.
Additional Helpful Resources:

The Charitable Choice Handbook for Ministry Leaders by Amy L. Sherman (available from Hudson Faith in Communities for $5 plus s/h. Call 434-293-5656.

(4) Our church wants to do more to reach out to the poor in our community. What "how-to" resources are available to help us learn more about community ministry?
A: Good news-there are several good resources to turn to:
" The Christian Community Development Association (CCDA) sponsors an annual conference in the fall that gathers thousands of ministry leaders active in their communities. CCDA sponsors a wide variety of workshops and workshop "tracks" that will give you access to veteran practitioners, model programs, and ministry experts. Learn about the conference at www.ccda.org
" Network 9:35 (www.network935.org) is a great website with practical resources, information on training events, profiles of model programs, and how-to books. You can also order Network 9:35's "Holistic Ministry Starter Kits."
" Numerous "getting started" books are available, including The Welfare of My Neighbor: Living Out Christ's Love for the Poor by Deanna Carlson (available from the Family Research Council); Community Ministry by Carl Dudley (available from The Alban Institute); The ABCs of Community Ministry: A Curriculum for Congregations by Amy L. Sherman (available from Hudson Institute Faith in Communities); and Restoring At-Risk Communities: Doing it Together and Doing It Right edited by John Perkins (available from CCDA). Amy Sherman's Restorers of Hope: Reaching the Poor in Your Community with Church-based Ministries That Work (available from Hudson Faith in Communities) and Ron Sider, Heidi Unruh, and Phil Olson's Churches That Make a Difference (available from Evangelicals for Social Action) provide snapshots of church-based ministries and extract "best practice" principles.

(5) How can we motivate and mobilize more volunteers to support our ministry?

A: Yvonne Dodd Sawyer, founder and former executive director of Hope for New York, a church-based ministry that mobilizes hundreds of volunteers for service in a wide variety of faith-based organizations throughout New York City, offers the following ten tips on volunteer mobilization:
1. Know your mission, and put it in writing, so volunteers can clearly understand it. (A person has to know and understand the vision in order to "catch" it!)
2. Know what kind of people you are looking for. List the types of skills, interests, passions, life experiences, resources, and spiritual gifts you believe would be helpful for effective volunteers in your ministry to have.
3. Write out "job descriptions" for the various volunteer positions open in your ministry. Share these with interested individuals and post them on the church's community bulletin board. Include in the description some statement of the gift mix you desire and/or the kinds of previous experiences you think might best prepare a person for service in your ministry. (Be careful, though, to avoid suggesting that noone except persons with that particular background could be effective in this role.)
4. Educate volunteers by describing profiles of typical program participants. If you are partnering with a non-profit agency or the Department of Social Services, have one of their staff come to the recruitment/orientation meetings to talk about the potential program participants and their needs. Help potential volunteers to understand the diversity of the people they will be serving among and challenge any unhealthy stereotypes they may have.
5. Excite and inspire volunteers by sharing testimonies about "success stories" from your, and other, church-based ministries. If possible, have experienced volunteers from similar ministries in other churches on hand to talk about their experiences and answer questions that new (or potential) volunteers may have about what's involved in being an effective volunteer.
6. Clearly define the ministry's expectations (time commitment, role, responsibilities). The more specific you can be (e.g. "tutors work 90 minutes each week from 3:00-4:30 on either Tuesdays, Wednesdays, or Thursdays from September 15 through December 15") the better. State what training or orientation will be provided. You may want to consider using a "Volunteer Covenant" that specifies in writing the commitment the volunteer is making to the ministry.
7. Appreciate your volunteers! Hold an annual Volunteer Appreciation Banquet, highlight volunteer teams and their work in the church's newsletter, send thank-you notes, give out certificates of achievement, etc.
8. Solicit volunteer input. "Exit interviews" conducted with volunteers at the end of a ministry season are effective for soliciting volunteers' suggestions and constructive criticisms. You can also have volunteers complete a survey questionnaire that asks for suggestions for improvement. This makes the volunteer feel more strongly attached to the ministry and develops within them a stakeholder mentality.
9. Communicate regularly with your volunteers - never let them feel they have been forgotten! You may even want to create a special publication/newsletter for your volunteers.
10. Celebrate success. Give the volunteers opportunities to testify about how God worked in their lives through their service experiences. Have volunteers share these testimonies before adult Sunday school classes or in a worship service. Or ask them to write up their testimony for church publications. This both affirms volunteers and communicates vision to the rest of the congregation, thus stimulating greater interest in, and support of, the church's outreach ministries.
It is critical to remember that effective volunteer mobilization requires a well-thought-through SYSTEM. Just presenting the needs or sharing testimonies is not enough. Many ministries have found it helpful to organize their volunteers in terms of the "Volunteer Management Spectrum."
Volunteer Management Spectrum

Educ/Promo Recruitment Screening Orientation Training Placement Supervise/affirm Shepherding Mentoring
First, there are general promotional activities to "get the word" out about the ministry and help people have a general awareness of it. This may involve articles in the church newsletter, bulletin board or booth displays, mailings, announcements in the church bulletin or by pastors/church leaders in the worship service, videos, etc.
Then there are actual recruitment efforts, inviting people to participate and explaining what that participation looks like (in terms of expectations, "jobs" etc.). Note: One key element in recruiting is convincing people that they have relevant skills to make a difference in someone's life. Jenny Forner, founder of New Focus (a life skills and mentoring ministry), employs a particularly effective technique in recruiting volunteers for her ministry. One of New Focus' slogans is "You Can Make a Change a Someone's Welfare." In part, the ministry helps churches learn how to assist welfare recipients exiting the welfare system. When she addresses a church group, Forner brings along a large ball of twine. She asks the church members to stand up and form a large circle. Then, she tosses the twine ball to one person and asks them to specify one interest or skill they have that they think could help someone to get off welfare. One person might offer to help with resume preparation, or transportation to job interviews, or babysitting. Then the person hangs on to a thread of twine while throwing the ball to another person in the circle--who identifies what he/she can do to "make a change in someone's welfare." After the twine ball has been tossed to everyone in the circle, it has created a crisscrossing web. Then Forner explains that a woman trying to make the shift from welfare to work takes a big risk in jumping from the protection of the "social safety net" of public assistance to the unknown work-a-day world. The church members' time and talents, though, as represented by the web of twine, provide a new safety net to undergird that woman.
Once potential candidates emerge, they need to be screened. This can happen through a volunteer application or an interview. In highly sensitive situations, such as, for example, where volunteers are asked to provide temporary lodging for abused children, a criminal record check may be appropriate. If these precautions are carefully explained to potential volunteers, and the necessity of protecting ministry participants is emphasized, volunteers are unlikely to be offended by such procedures. The general rule of thumb is that the intensity of screening should correspond to the demands of the volunteer job. Someone who is asked to work alone with small children in unsupervised settings outside of the ministry should be screened more carefully than the volunteer who offers to make snacks for the children's Bible club once per month.
After screening, volunteers go through a basic orientation that reinforces the ministry's goals, what's expected of them, etc. This is time for them to ask questions and get an even better understanding of the ministry.
Then there is the specific training for the ministry position (e.g., teachers giving a seminar to new tutors on "tips for helping kids with homework"). In order to design training sessions effectively, it is helpful for ministries to identify what kind of training they hope to provide: training that increases the volunteer's knowledge; that improves the volunteer's skills; or that seeks to affect the volunteer's attitudes. In the first instance, lectures, discussions, field trips, readings, and video presentations may work well. In seeking to teach a volunteer new skills, the best teaching methods may be demonstrations, role-playing, simulations, and on-the-job practice sessions. When trying to affect volunteer's attitudes, role-reversals, play-acting, and reading case studies may be effective teaching tools.
Then volunteers are placed. They are matched with program participants and begin their actual work in the ministry. Creatively think through how to set up that "first day on the job." You might design special get-acquainted activities for tutors for the first time they meet their students. In the ministry I directed, our job training participants met their mentors first at a casual, brief "get acquainted over donuts" session at our ministry facility.
Then there is the on-going supervision and affirmation of the volunteers as they serve. This implies that there is a supervisor, program coordinator, or "mentor-shepherd" in charge of the ministry program. This may be a volunteer or a paid staff member. This is the individual to whom volunteers know they can go for information, trouble-shooting, etc. Ideally, this person is physically present in the location where the volunteers are doing their service.
Moving further along the volunteer spectrum, there is shepherding of volunteers. This involves prayer for them and availability to them to "de-brief" their service, to share in their joys and trials. Remember that the ministry is about seeing God work in the volunteer, just as it is about seeing God work in the program participant. Shepherding volunteers means more than thanking them; it involves caring for them as individuals.
Finally, there is mentoring of the volunteers. This involves helping the volunteer to assess his/her ministry experience. What did God teach them? Is this ministry a good fit? Is it developing their gifts-and how could they further grow those gifts? Can they take on additional leadership within the ministry? Is their service in this ministry being used by God as launching pad to another ministry?
Additional Helpful Resources: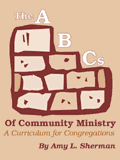 The ABCs of Community Ministry by Amy L. Sherman (available from Hudson FIC)
Community Ministry: New Challenges, Proven Steps to Faith-Based Initiatives by Carl S. Dudley (Bethesda, MD: The Alban Institute, 1991).
The Equipping Church Guidebook by Sue Mallory and Brad Smith (available from Leadership Network at http://www.leadnet.org/resources/resources.asp)
Equipping the Saints: Mobilizing Laity for Ministry edited by Michael J. Christensen (Nashville: Abingdon Press, 2000).
Finding Your PLACE in Life and Ministry: An Assessment Tool by Jay McSwain (Oklahoma City: PLACE Ministries, 2002).
Helping You is Helping Me by Virgul Gulker and Ken Wilson (Ann Arbor, MI: Servant Publications, 1993).

(6) Should our congregation establish a separate 501c3 nonprofit organization to "house" our community ministry?
A: Most experts say yes. A separate organization will ease fund-raising and decision-making. But this is not necessarily the right approach in every situation. Starting a Nonprofit at Your Church by Joy Skjegstad is an excellent, practical, well-organized handbook that walks congregational leaders through the process of assessing whether, to fulfill their community ministry plans, they need to establish a separate nonprofit corporation. It also helps leaders think through the different kinds of organizational structures such a nonprofit might have in terms of its relationship to the congregation, and offers numerous insights about board development and personnel and legal issues. This resource is available through The Alban Institute, based in Bethesda, MD.
Additional Helpful Resources:
www.nonprofitbasics.org This website contains a wealth of information about nonprofit management. On it, you can download a helpful manual called Starting a Nonprofit Organization (http://www.boardsource.org/clientfiles/ebooks/Vision.pdf)

(7) Our church is interested in starting a mentoring program for low-income adults. What model programs/organizations can we learn about to get some good ideas about what kind of initiative to launch?
A: Since the passage of federal welfare reforms in 1996, there has been an explosion in church-based mentoring initiatives. This kind of community ministry builds on one of the key assets of congregations: their people. As Harv Oostydk, a 30-year veteran of urban ministry, has commented, often what a poor person needs more than anything else is a friend. Social workers who staff local government social welfare agencies that assist low-income families often agree. Not surprisingly, many new government-church partnerships have been established since 1996 to mobilize individuals from congregations to provide practical help and emotional encouragement to families making the transition from welfare to work. Our research has uncovered several examples of effective church-based mentoring programs, including:
" Family to Family Mentoring - based in California http://www.ftfmentoring.org/html/about.htm
" Bridge of Hope - based in Pennsylvania http://bridgeofhopeinc.org/model/mentoringgroup.cfm
" Jubilee Project - based in North Carolina
To obtain further information, call the Hinton Rural Life Center Families First office at 919-968-0931
" New Focus - based in Michigan http://www.newfocus.org/
Coming soon: Answers to more questions…

Q: What resources are available to help us in training volunteers for cross-cultural ministry in the city?
Q: Where can we learn more about conducting a community needs assessment in our community?
Q: What are some successful models of urban-suburban church partnerships?