G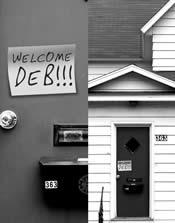 ood Samaritan Ministries in Holland, MI won first prize in Michigan in the 2005 "Partners in Transformation" competition. This remarkable ministry embodies the spirit of the contest, as it seeks both to equip congregations for community service and to build multi-sector partnerships that translate into a strong safety net of support for the low-income families the ministry serves.

Good Sam's CarLink program matches the working poor with mentors who help them get out of debt, take charge of their finances, and obtain reliable transportation. Daisy, a single- mom with three boys, desperately needed a decent car to enable her to stay employed. She credits her mentor, Ed, with helping her to create a workable budget and to adopt a savings plan. Within ninety days of the CarLink program, Daisy had made huge strides in repaying her debts and became the proud owner of a 1998 Buick.

The ministry's "Community Housing Partnership" (CHP) also assists the working poor. Last year, the program served 150 people. Through the CHP, sixteen area churches provide transitional housing and intensive support services such as mentoring and help with transportation, childcare, and everyday tasks like grocery shopping and yard work. A secular nonprofit, Community Action House, employs three case managers that meet weekly with each of the 25-30 clients in the program. They conduct a comprehensive assessment and develop a case plan outlining short and long-term goals. Community Action House also provides a weekly life skills class and helps clients develop a working budget, reduce their debt, and repair their credit.

Deb, a 27-year-old single mom, entered the program in 2004 when she was living with her three boys at the Holland Rescue Mission. She was working at McDonalds, but that income was insufficient to provide for debt and housing payments. With support from her mentor and case manager, Deb completed a training program to become a medical administrative assistant. She landed a job as a receptionist at a chiropractor's office within walking distance of the home she was renting through the CHP. As his practice has grown, so have her hours. Today's she's working nearly full-time and has paid off most of her old debts.