T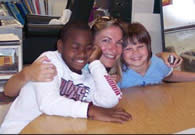 he members of Southwood Presbyterian Church in Huntsville, Alabama are heavenly minded--and earthly good. The most visible example of this is the giant replica of the solar system they've constructed for Lincoln Elementary School, where 94 percent of attending children are poor enough to qualify for the government's free lunch program. Bright stars and six-foot planets bedazzle the eye as they stretch across the 2000-foot black-painted ceiling of the school's old gym. Now the building is a giant science laboratory complete with a salt-water aquarium and terrarium. "The whole idea was to study sea, space, and earth," enthuses Southwood's Director of Mercy Ministries Mark Stearns. "We wanted the kids dreaming."

The science lab's not the only new thing at Lincoln. With help from Southwood and other churches, the school now boasts a refurbished library with a state-of-the-art computer lab and scores of new books. And in a renovated greenhouse attached to the school, Lincoln students are now busy taking horticulture classes.

The most important service Southwood PCA has offered to Lincoln, though, hasn't been money or things. It's people. Over half of Lincoln's 212 students now enjoy personal, one-on-one mentor-tutors, thanks to volunteers from Southwood and other local congregations. The result? Kids' reading and math scores are improving, and their writing assessment test scores have increased 37%. Equally exciting is the fact that the relationships tutors have fostered with parents have increased participation in the PTA – from just half a dozen parents to over 100!