Staying in School: How Two Faith-Based Initiatives in Phoenix Are Keeping High-Risk Teens on the Path to Success by Amy L. Sherman

Download Now
Sunny Phoenix is the site of two successful faith-based initiatives encouraging school retention by high-risk Hispanic and Native American youth. Neighborhood Ministries operates the "I Can Do It" program, an impressive, multi-faceted partnership with over 30 public schools. New Beginnings Church has launched its own charter high school, James Sandoval Prep, offering a "family-feel" small school that is succeeding with kids tossed out of traditional public schools. This in-depth case study describes the background and development of these programs, the challenges they have faced, and the lessons learned.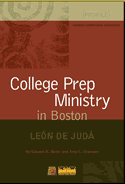 College Prep Ministry in Boston: Leon de Juda by Edward R. Davis and Amy L. Sherman

Download Now


Leon de Juda's Higher Education Resource Center (HERC) helps inner-city students to prepare for college. Its "Let's Get Ready" program focuses on strengthening students' academic skills while its weekly mentoring ministry matches urban teens with Christian college students who can help the high school students to grow more holistically. HERC offers classes to help prepare 10th, 11th, and 12th grade students to increase their scores on standardized high school tests and college entrance tests (the MCAS and SAT exams). The Center also provides assistance to students and their families in completing college admissions and navigating financial aid processes.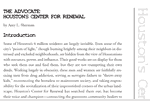 The Advocate: Houston's Center for Renewal by Amy L. Sherman

Download Now
The Center for Renewal (CFR) has helped to train and equip 165 frontline ministries in Houston. Many of these are unsung heroes, tiny grassroots agencies "under the radar screen" of the media, policymakers, and the philanthropic world. But because CFR has been telling their stories and connecting them to the "well-resourced" of the city, these points of light are no longer invisible. Remarkably, with its modest budget of just $150,000 annually, CFR has helped these grassroots community healers to garner over $1 million in new grants. That's a 600 percent rate of return! An Hispanic drug rehabilitation ministry, a unique suburban-urban congregation, and an African-American urban youth ministry are just three organizations CFR has championed, connected to new volunteers and increased resources, equipped with new tools, and assisted with board development. The agencies' enhanced capacity has translated into better programs and a broader reach; in short, to improved outreach and services to greater numbers of vulnerable citizens.


Reaching Teens in Houston
by Amy L. Sherman

Download Now

Crossroads Youth Ministry attempts to evangelize and disciple teenagers from families regularly participating in the life of El Tabernaculo Assembly of God as well as from unchurched families in the area. Youth Pastor Max Torres' principal strategy for reaching teens is to penetrate the public school campuses where they spend so much of their time. For 25 years, Max has been a visible community leader on campus and in the streets, reaching out to troubled kids and gang members.